Ingrid R
A Dynamic Slideshow is a collection of images with descriptive captions. Dynamic slideshows provide alternate ways of presenting information while adding activity to a page. They also present multiple views on a single topic without using excessive page space.
Pedagogical Uses
1. Slideshows can show comparisons if each image shows a different type of something (e.g., different types of cells, or different ways of displaying a data set).
2. Slideshows can show a progression—for example, the stages of the Roman Empire's expansion over time.
3. Slideshows can "drill down" from a large concept into its smaller components, or vice versa. An example might be a slideshow that begins with a large body system, moves to an organ that is part of that system, and them moves to the cells that make up that organ.
Add a Slideshow
1. On the course blueprint, click + Add Section, select Dynamic Slideshow, and then click Add to Page.
2. Click Create a new Dynamic Slideshow or Select existing Dynamic Slideshow.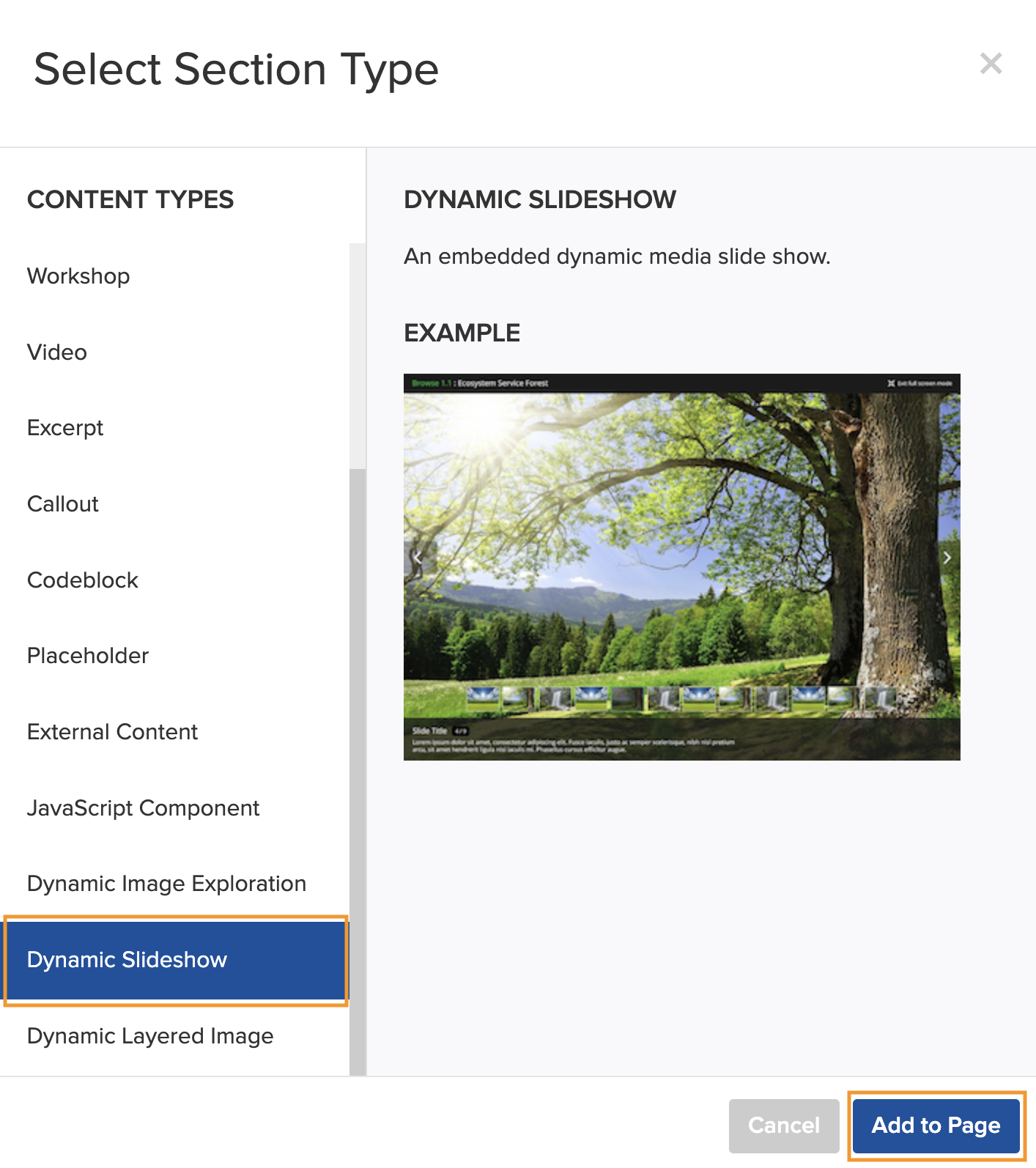 Create a New Dynamic Slideshow
When adding a new slideshow, be sure to add title and description. When you're ready to start building your slideshow, click Add Slide.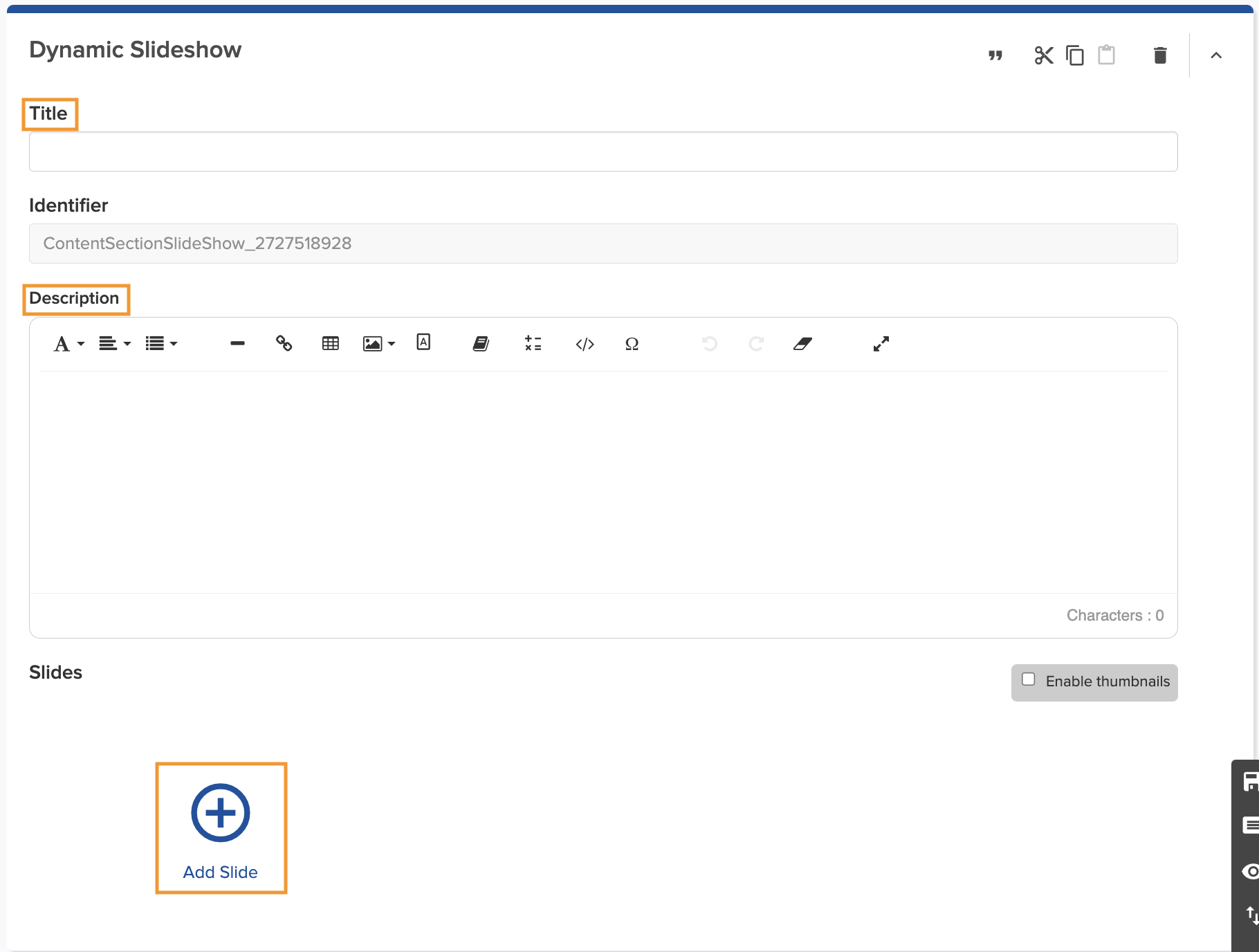 Media Manager Tip: Use the Media Manager to upload or find and insert images for a slideshow. Because multiple images comprise each slideshow, it is helpful if the image files have similar names, so that they are clearly identifiable and easy to find.
Add Slides
1. Click on Add Slide. Doing so brings up the Media Manager.
2. Select the image you want from the Media Manager and insert it.
3. Label the image and provide a description. Note that the full text editing toolbar is available.
4. Continue to add slides to complete the slideshow.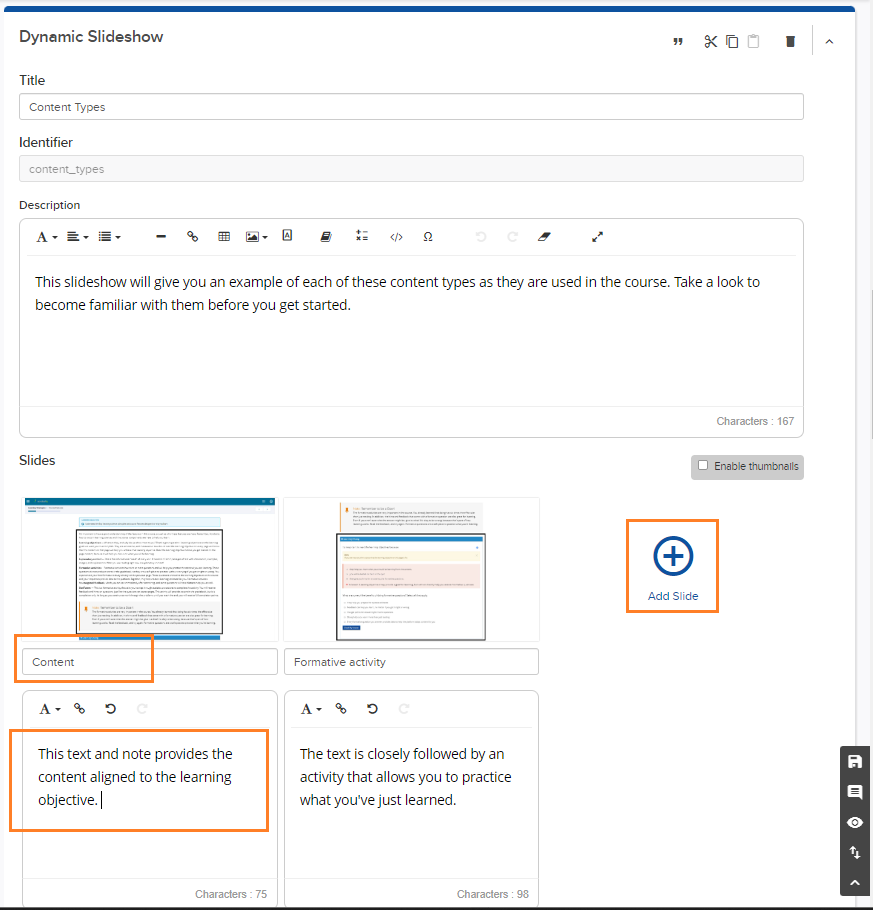 Order the Slides
To reorder, add, or remove a slide:
Click the image in the slide.
Click the appropriate action button: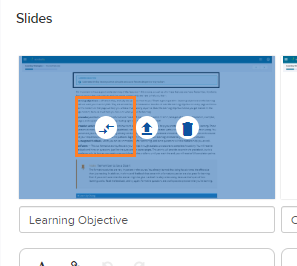 Dynamic Slideshow Sample:
A collection of images with descriptive captions, allowing authors to present multiple views on a single topic without using excessive page space.