Creating and Managing Blueprints

Ingrid R
Overview
A blueprint organizes content. A given content area may have multiple courses built on the same foundation, but differing in crucial ways. For instance, a publisher may need two biology courses: Introduction to Biology for Majors and Introduction to Biology for Non-Majors. The publisher could accomplish this goal by having two blueprints in his or her biology project.
Example: Blueprint Sequence
Blueprints also provide the option of building a single course in multiple ways. For example, Anatomy & Physiology I & II might be arranged two ways: (1) all anatomy content followed by all physiology content, or (2) A&P I followed by A&P II. Blueprints offer you the ability to develop separate offerings that share content.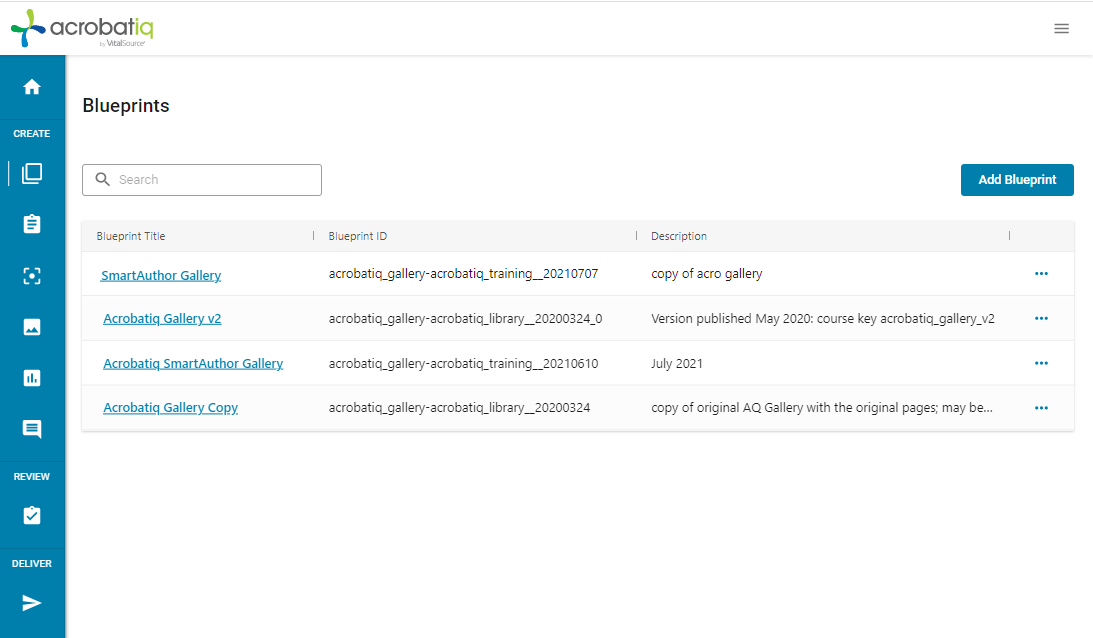 Accessing Blueprints
Access the Blueprints page by clicking the Blueprints link in the project menu.

Blueprints can be reached from any page in a project via the Project menu.
Courseware Library blueprints:
Projects built based on content from Acrobatiq's Courseware Library include one or more default blueprints. The default includes all content in the library blueprint, such as learning objectives, exposition, and media. The descriptions of the following default Anatomy and Physiology blueprints provide an example of one project serving as the repository for multiple course applications of content. Specifically, one blueprint contains the full complement of content organized as a full course ready for deployment. The other two blueprints represent an organization for two courses, A&P I and A&P II.

Blueprint Actions Menu
(Availability of actions is role-dependent)

Preview: View the course in preview mode, which approximates the student view.
Edit: Add, rename, rearrange, or delete units, modules, and pages.
Delete: Delete the blueprint. This action is not reversible after confirming.
Create a New Blueprint
Those with the role of Customer Admin, Manager, or Author can create new blueprints as follows:
From the blueprint page, click + Add Blueprint.
In the pop-out box, enter a title and description for the new blueprint.
If you are cloning an existing blueprint, select the blueprint to clone from the drop-down menu. The new blueprint can be customized as needed.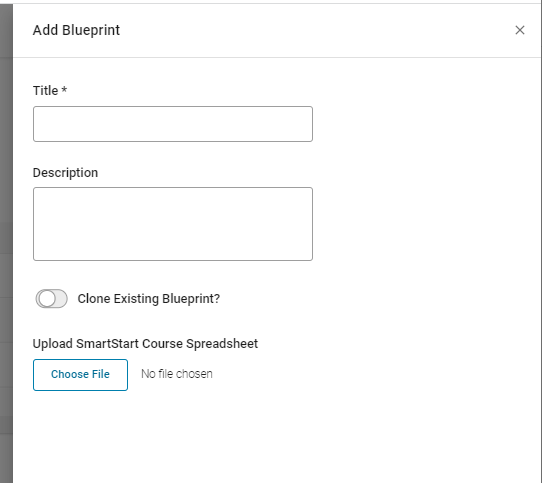 Create a new blueprint with no content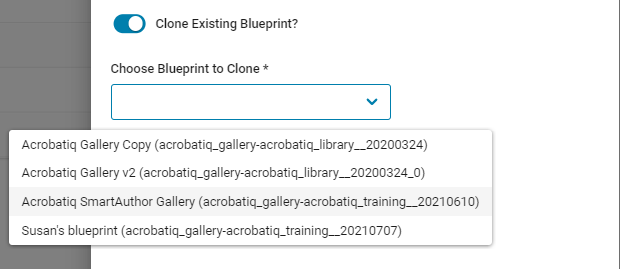 Create a new blueprint with cloned content