Maintenance: Publish new Sections

Ingrid R
This section covers the publishing process of new sections for existing courses on the production environment. If you need to publish a project from the Authoring environment for the first time, please refer to Publishing Overview & Steps.
Maintenance

- Publishing new Sections for existing courses
Once your course is published from the authoring environment it will be copied onto our "live" or production environment.
Follow the steps below to create new Sections (copies) of published courses in the production environment. Each section will have its own roster and gradebook.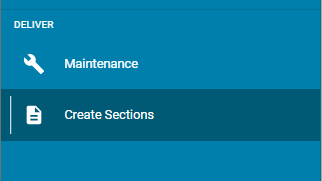 Maintenance

- Create Sections
1. Click on the Create Sections icon on the left navigation bar, found under the heading Deliver.
2. Click on the Create Sections button on the top right corner of the page.
3. Complete the required information on the Create Sections sidepanel, including course settings and assessment settings.
Course Settings
- Section Title: this will be the name of your course once published.
- Select Blueprint: you can publish more than one blueprint by using de +Add another section button at the end.
- Preferred Section Key: this will be the course key for the production course.
- Start Date: course start date
Assessment Settings
- Assessment Attempts: determines the number of attempts students have on course assessments.
- Assessment Scores: determines how assessments are scored if multiple attempts are allowed.
- Assessment Feedback Availability Before/After Deadline: determines if assessment feedback will be available for students after submission, either before or after deadline.
- Score Personal Practice: determine whether Personal Practice assessment are scored or not. If scored, you can choose between being scored on completion or on correctness.
4. Click on Create Sections.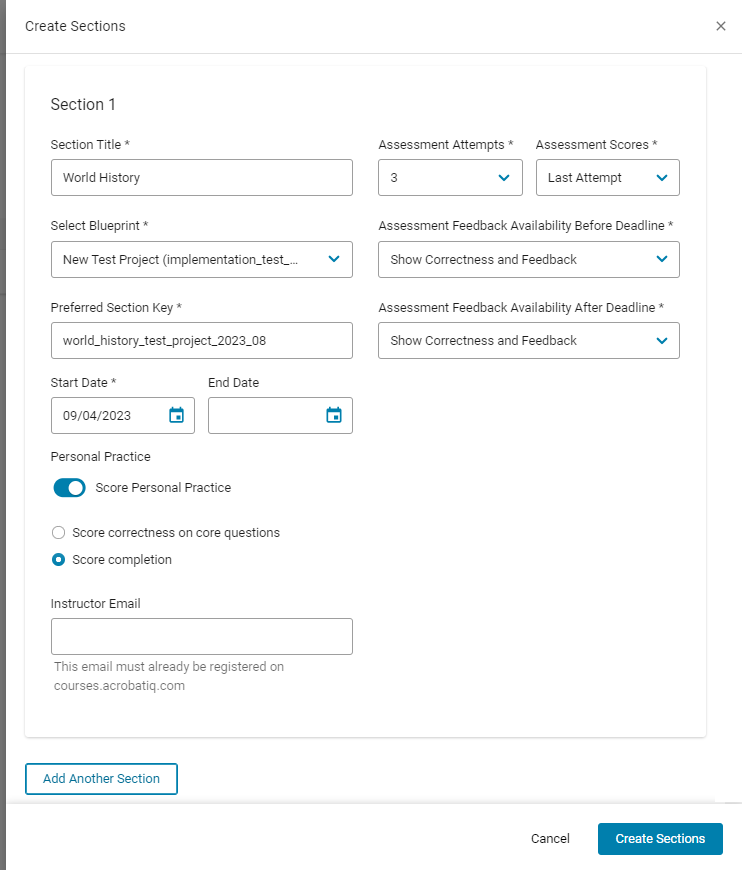 Your Engagement Manager will review the request and publish the Section. You will receive an e-mail notification when the course has been published to the production server.